Customization is the key for jewellery.
Women have different personalities and styles, and they want that to reflect on what they wear everyday. 
Get your Customized Jewellery from AMA Store and make an emotional and personal statement on love, family, dreams or memories.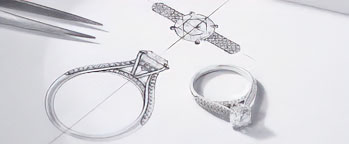 Talk to us, Give us a drawing, initial sketch, or a short description of your new dream personalized jewellery piece, by whatsapp or email.
AMA Store costumer services team reviews the request and make sure we clearly understand what is required.
This happens within 24 hour of your original request Confirmation.
AMA Store sends you an offer with a computer generated sketch, or CAD, and send you a series of images and/or video of the sketch, that will be provided within 4 to 6 business days.