Ring Sizes
Factors to consider when measuring your ring size
If your fingers are cold your ring size will be at least half a size smaller and vice-versa in hot weather.
If you have drunk alcohol or consumed salty foods this may cause your fingers to swell up in size.
Depending on the style of the ring a wider band will feel tighter than a thinner band, if the band is 6mm wide or more we suggest that you may require a slightly larger ring size.
Your ring should be comfortable enough to slide over the widest part of your finger usually the knuckles, and to be snug enough not to fall off.
Checking your ring size on several occasions, on a cold and on a warm day will ensure that you will get an accurate ring size.
Measure an existing ring
This Ring Size Measurer is to be used with an existing ring to find your ring size. For greatest accuracy use a ring with a similar width band and style to the one that you want to purchase.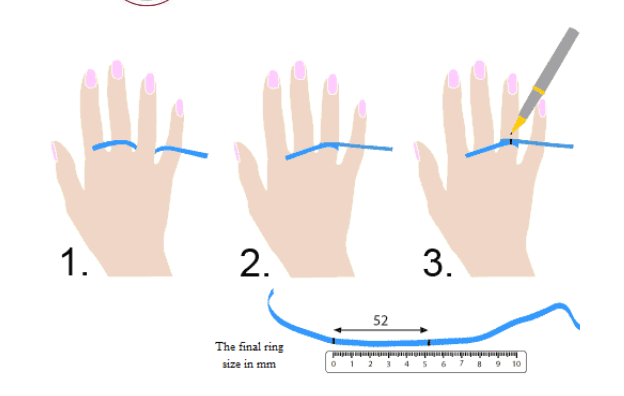 1) Select an existing ring that fits your intended finger.
2) Place the ring over the circles below, matching the inside edge of the ring to the circle nearest in size. This measurement refers to the inside diameter of the ring.
3) Your ring size is the letter that fits best within the circle. If the ring falls between two sizes, we recommend you opt for the larger size.
Ring Size Conversion Chart
For our international customers outside of the UK, we have a conversion reference chart. Please note that this chart is provided as a guide only, some sizes do not correspond exactly. For greatest accuracy we recommended that you visit your local jewellers to obtain the correct size.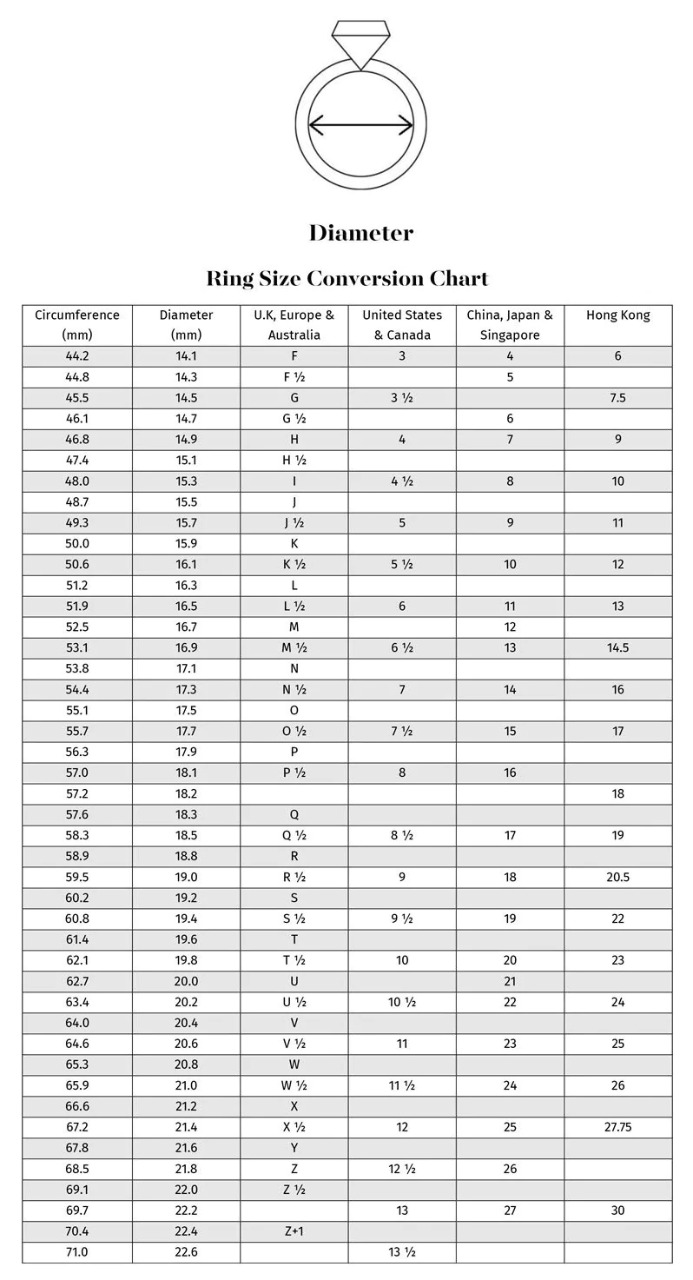 Bracelet Sizes
These charts provide a basic guide to finding the right size for bracelets, bangles and cuffs.
Bracelet and Bangle Sizes
The bracelet and bangle size recommended is for comfort fit which is adding an extra 2 cm / 0.79″ to your wrist circumference measurement.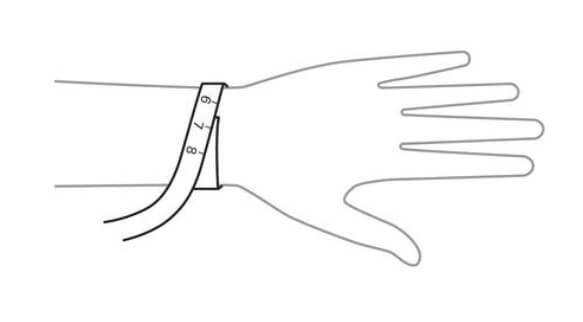 Measuring your wrist
1) Use a tape measure, or if you do not have one, use a strip of paper, ribbon or cord. Wrap it around your wrist where you would normally wear the bracelet.
2) If you are using a strip of paper, ribbon or cord. Mark the end of the strip and then measure the length against a ruler. This is your wrist size.
3) Refer to the chart below for your wrist size and for the recommended bracelet size, which is based on a comfort fit. You should be able to fit two fingers comfortably between the bracelet and your wrist. Depending on your personal preference whether you like a snug fit, comfort fit or a loose fit, you may need to move up or down a size accordingly to suit your preference.

If you want a custom sized bracelet please contact us: contact@amastore.be
Necklace Lengths
Determine the necklace length that is best suited to the size of the pendant and relative to your build, circumference of your neck and height.
This guide is based on a person with a medium size build, if you are smaller or larger than medium you may need to take that into consideration by moving up or down a size accordingly.

If you want a custom sized necklace please contact us: contact@amastore.be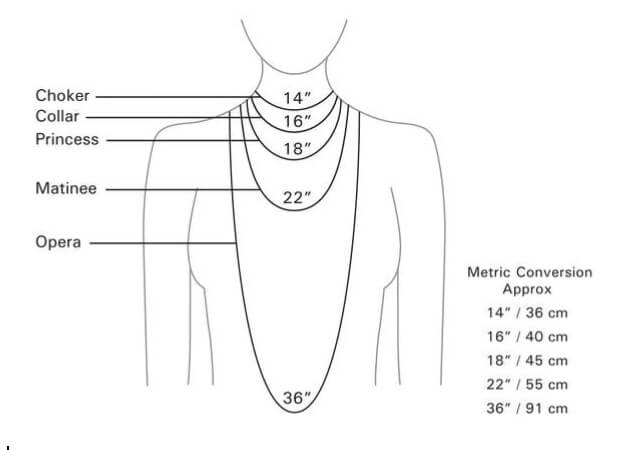 14″ ChokerWraps closely around the neck. Chokers are a great choice for high-necked tops or dresses. They work best on long and slim necks.
16″ CollarSits around the base of the collarbone. This necklace matches any outfit and nearly every neckline. Collars are perfect for statement pieces. This length flatters slim to medium build. For slightly larger build or a full neck the collar necklace will fit like a princess.
18″ PrincessFalls below the collarbone just below the throat. A popular choice that suits crew and high necklines as well as contrasting low plunging necklines.
22″ MatineeSits above the bust. The matinee draws attention to the bust area, suits plunging necklines. Ideal for larger necks and busts.
36″ OperaHangs below the bust just above the waist line. Perfect for statement pendants, this length elongates the torso, making it an ideal elegant choice for day or evening wear.