Bracelet Sizes
These charts provide a basic guide to finding the right size for bracelets, bangles and cuffs.
Bracelet and Bangle Sizes
The bracelet and bangle size recommended is for comfort fit which is adding an extra 2 cm / 0.79" to your wrist circumference measurement.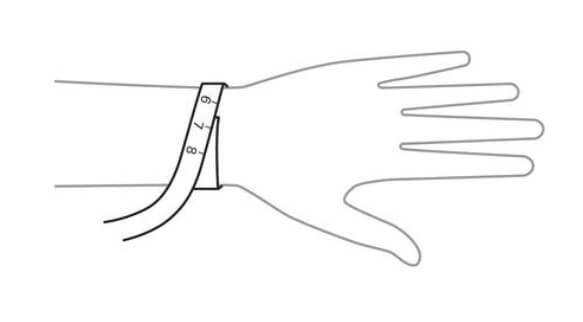 Measuring your wrist
1) Use a tape measure, or if you do not have one, use a strip of paper, ribbon or cord. Wrap it around your wrist where you would normally wear the bracelet.
2) If you are using a strip of paper, ribbon or cord. Mark the end of the strip and then measure the length against a ruler. This is your wrist size.
3) Refer to the chart below for your wrist size and for the recommended bracelet size, which is based on a comfort fit. You should be able to fit two fingers comfortably between the bracelet and your wrist. Depending on your personal preference whether you like a snug fit, comfort fit or a loose fit, you may need to move up or down a size accordingly to suit your preference.

If you want a custom sized bracelet please contact us: contact@amastore.be