Determine the necklace length that is best suited to the size of the pendant and relative to your build, circumference of your neck and height.
This guide is based on a person with a medium size build, if you are smaller or larger than medium you may need to take that into consideration by moving up or down a size accordingly.

If you want a custom sized necklace please contact us: contact@amastore.be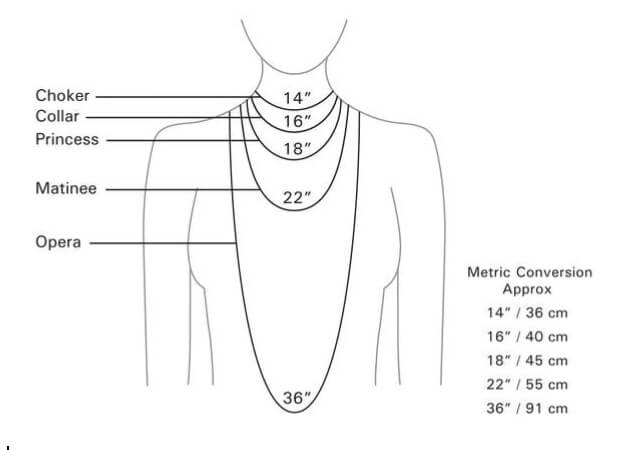 14" Choker
Wraps closely around the neck. Chokers are a great choice for high-necked tops or dresses. They work best on long and slim necks.
16" Collar
Sits around the base of the collarbone. This necklace matches any outfit and nearly every neckline. Collars are perfect for statement pieces. This length flatters slim to medium build. For slightly larger build or a full neck the collar necklace will fit like a princess.
18" Princess
Falls below the collarbone just below the throat. A popular choice that suits crew and high necklines as well as contrasting low plunging necklines.
22" Matinee
Sits above the bust. The matinee draws attention to the bust area, suits plunging necklines. Ideal for larger necks and busts.
36" Opera
Hangs below the bust just above the waist line. Perfect for statement pendants, this length elongates the torso, making it an ideal elegant choice for day or evening wear.