Factors to consider when measuring your ring size
If your fingers are cold your ring size will be at least half a size smaller and vice-versa in hot weather.

If you have drunk alcohol or consumed salty foods this may cause your fingers to swell up in size.

Depending on the style of the ring a wider band will feel tighter than a thinner band, if the band is 6mm wide or more we suggest that you may require a slightly larger ring size.

Your ring should be comfortable enough to slide over the widest part of your finger usually the knuckles, and to be snug enough not to fall off.

Checking your ring size on several occasions, on a cold and on a warm day will ensure that you will get an accurate ring size.



Measure an existing ring
This Ring Size Measurer is to be used with an existing ring to find your ring size. For greatest accuracy use a ring with a similar width band and style to the one that you want to purchase.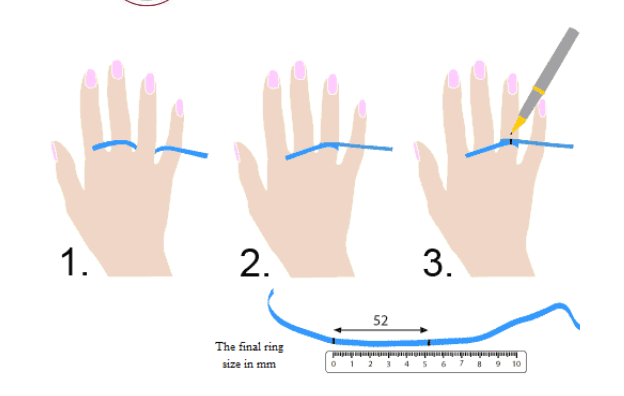 1) Select an existing ring that fits your intended finger.
2) Place the ring over the circles below, matching the inside edge of the ring to the circle nearest in size. This measurement refers to the inside diameter of the ring.
3) Your ring size is the letter that fits best within the circle. If the ring falls between two sizes, we recommend you opt for the larger size.
Ring Size Conversion Chart
For our international customers outside of the UK, we have a conversion reference chart. Please note that this chart is provided as a guide only, some sizes do not correspond exactly. For greatest accuracy we recommended that you visit your local jewellers to obtain the correct size.